Craving cocktails?™ Happy Hour at Cameo Bar, Viceroy Hotel Santa Monica
The 10-year-old Cameo Bar at Viceroy Santa Monica trumps all expectations of a pleasurable Happy Hour experience.  Executive Chef Tony DiSalvo's culinary savvy is evident even in his smaller offerings during cocktail hour.  Chef DiSalvo creates Mediterranean cuisine with a modern twist, showcasing produce sourced both locally and globally.  The Cameo Bar's stunning interior is the creation of tastemaker Kelly Wearstler utilizing innovative materials and crisp contemporary lines that deliver a sophisticated indoor/outdoor atmosphere. With the advent of Spring, the expansive outdoor patio is the perfect place to relax and enjoy a respite with your favorite drink and a few friends.
Cameo Bar is known for their "7  before 7" concept, which means all items are $7 from 4pm-7pm.  Works for me!  On our visit F&B Managers Thomas Rekasis and Don Samora made us feel right at home and lovely Bartender Amy Leang started us off with a fabulous round of cocktails including Cucumber RX (Fresh cucumber, Sapphire gin and St. Germain), Whiskey Delicious (Cucumber, Woodford Reserve whiskey, organic mint, fresh squeezed lime juice), Blood Orange Margarita (Fresh blood orange juice, Herradura Silver, fresh lime, Cointreau), Viceroy Margarita (Herradura Silver, fresh lime, Cointreau), and a PC Fizz (Cointreau, Pimms No. 1, fresh squeezed lime and lemon juice).  All the drinks were great but I have to say that Cucumber RX is a sure cure for whatever ails you!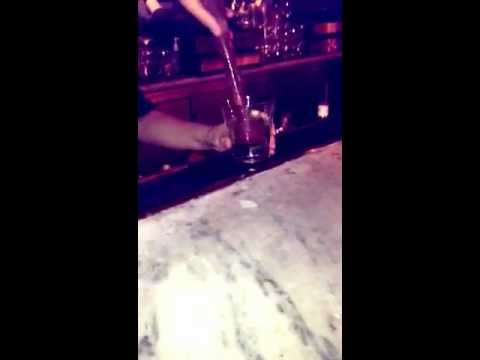 Following this Thomas and Don brought us out a generous amount of plates to sample including Meatballs (Shaved Parmesan, basil & olive oil), Shrimp Toast (Bean sprouts, grapefruit, peanuts, Vietnamese herbs, chili-lime infusion), Ultimate Burger (BBQ sauce, fried onion, pickles, coleslaw, house made bacon and fries), Croquettas (Ham, manchego, quince vinaigrette, marcona almonds, arugula and frisee) and Lamb Skewers (Farro, beets, feta, date and pistachio salad).  Everything was delectable and the portions were quite large, particularly the Burger which was brilliant.
Cameo Bar is laid back, sexy and romantic.  This would be the perfect place for date night, an outdoor gathering with friends or a business meeting.  Now that the warmer weather is upon us Viceroy will also be having DJs on Saturday nights.  Elegant, refined, cultured and sophisticated is how I would define Cameo Bar, just the way I like it!  Drop by for a cocktail.  I'm confident you will agree.
Happy Hour Details
Name of Restaurant
Cameo Bar @ Viceroy Santa Monica
Address
1819 Ocean Ave, Santa Monica 90401
Happy Hour Hours
4-7pm, M-F
Phone Number
310.260.7500
Website Link
www.viceroysantamonica.com
Price range for drinks
$7
Price range for food
$7
Featured Wines
Bin 36 Cabernet, Lincourt Chardonnay
Featured Beers
Stone IPA, Stella Artois, Guinness, New Castle, Fat Tire, Amstel Light, Bud Light, Victoria
Featured Mixed Drinks
Viceroy Margarita
Featured Foods
Meatballs, croquettas, crispy Tuscan potatoes, pesto and goat cheese flatbread
Free munchies
popcorn
Name of chef
Tony DiSalvo
Name of owner
Viceroy Hotel Group
Name of manager
Viceroy Hotel Group
Craving cocktails?™ Happy Hour at Cameo Bar, Viceroy Hotel Santa Monica
5
Sara Altshul
2012-02-29 23:07:17
The 10-year-old Cameo Bar at Viceroy Santa Monica …
Sponsors

Sign up for CRAVING COCKTAILS? NEWSLETTER