Craving cocktails?™ Happy Hour at Hostaria del Piccolo in Santa Monica
A world class treasure hidden in plain sight in the middle of Santa Monica, Hostaria del Piccolo is a pure delight!  The second restaurant for uber restaurateurs Vittorio Viotti and Bobo Ivan, Hostaria del Piccolo has been open for a little more than a year. Inspired by a traditional Italian Hostaria where freshly prepared regional food is showcased in a casual setting, Hostaria del Piccolo was designed by Gregory H Ginter, Architect, Bobo and Vittorio.  This is a very relaxed environment with a sophisticated urban design uniting the simplicity of raw steel, glass and concrete with the warmth of reclaimed wood and natural light.
Mixologist Brian Bottalico applies the same philosophy to the cocktail list as does the restaurant; he uses only fresh ingredients and has helped create a selection of classic and original cocktails just for the Hostaria.  Brian and my Host Cuckie Zatti selected a superb line up including an Aperol Spritz (Prosecco, Aperol and soda – my newest most favorite drink!), Timmy (Agave syrup, silver tequila, crème de mure massanez, lime juice, mixed berries and jalapeno), Cucciolo (Cucumber, gin, St. Germain, fresh lemon) and Gongolo (Vodka, St. Germain, lime, ginger beer, mint sprigs, strawberries).  Each and every one – pure heaven in a glass!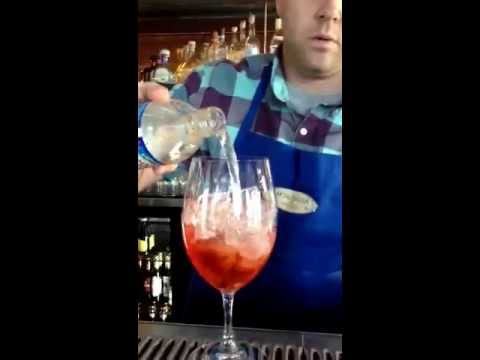 For their Happy Hour Hostaria offers a series of full menu items at more than half price, not just appetizers; i.e., you get to have a full dinner from salad to dessert at drastically reduced pricing.  Manager and co-owner Christian Bertolini really put on a show for us with a glorious selection of items including Piovra (Grilled octopus over toasted seasonal vegetables), Testaross Pizza (Tomato sauce, Tuscan bean pesto, gaeta olives, heirloom tomatoes, basil), Mezzi Pasta (Tomato sauce, toasted eggplant, mozzarella di bufala) and Tirabigne (Mascarpone cream filled puffs, espresso sauce, cocoa).  Every dish was spectacular but that octopus really "grabbed" me.
With the success of both Piccolo in Venice and now Hostaria in Santa Monica, I am pleased to announce that a sister restaurant to Hostaria will be opening on Rose Avenue in Venice shortly.  Sunday through Thursday are the best nights for Happy Hour at Hostaria as the restaurant gets very busy on the weekends.  This is the perfect spot for any occasion; a date, a night out with friends, business meeting, or party.  Relaxed, elegant, full of panache, verve and welcoming to boot, any reason to come here will be perfecstasy.  Now that Hostaria del Piccolo is on my radar I only wish they offered frequent diner points as I plan on moving in!
Happy Hour Details
Name of Restaurant
Hostaria del Piccolo
Address
606 Broadway Santa Monica CA 90401
Happy Hour Hours
HH Hours: Every day, 5-7
Phone Number
310.393.6633
Email
buonasera@hostariadelpiccolo.com
Website Link
www.hostariadelpiccolo.com
Price range for drinks
$4-6
Price range for food
$5-7
Name of chef
Germano Minin
Name of owner
Vittorio Viotti, Roberto Ivan
Name of manager
Christian Bertolini
Mixologist
Brian Bottalico
Craving cocktails?™ Happy Hour at Hostaria del Piccolo in Santa Monica
5
Sara Altshul
2012-02-16 23:44:18
A world class treasure hidden in plain sight in th…
Sponsors

Sign up for CRAVING COCKTAILS? NEWSLETTER