Craving Cocktails?™ Happy Hour at Brick + Mortar Santa Monica
The new hot spot on Main Street in Santa Monica is Brick + Mortar located in the Frank Geary designed Edgemar building.  Elegant, lean, simple and relaxing, Brick + Mortar hit the ground running when it opened in January of 2012.  Formerly Salute Wine Bar, the new owners (BRG Group) re-modeled the entire restaurant in eight days and immediately were rewarded with a flood of clientele.  This is a great neighborhood gastro pub that serves five-star food at three-star prices.
On our visit bartender Juan Sanchez started us off with a great round of cocktails which included a Bubbly Italian Greyhound (Absolut grapefruit, fresh squeezed grapefruit juice, agave nectar, splash of Prosecco), Mama's Boy Margarita (In-house spicy infused tequila, fresh squeezed lime juice, agave nectar, fresh squeezed pineapple juice), Fire Raspberry Margarita (In-house spicy infused tequila, muddled raspberries, agave nectar, splash of cranberry juice), Cucumber Basil Refresher (Hendrix gin, fresh squeezed cucumber juice, muddled basil and lime) and a Tijuana Donkey (In-house spicy infused tequila, fresh squeezed grapefruit juice, splash of orange soda).  Brick + Mortar also has over 50 wines on the menu and a bevy of beers to choose from.  During Happy Hour house wines and well drinks are only $5.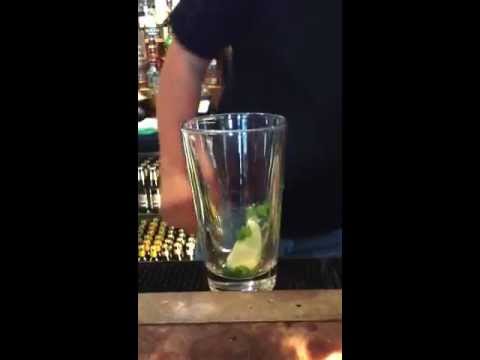 The kitchen at Brick + Mortar is run by Executive Chef- Laurent Saussy formerly of 72 Market Street, Jiraffe and Josie Restaurant amongst others.  Our hosts for the evening, PR whiz-kids Kelley Coughlan and Jenn Deese next had Chef de Cuisine Jessica Cabo make us some outrageously yummy treats.  These included a Caesar salad with poached egg and crispy ham, charcuterie and cheese board, spicy tuna roll with avocado and cucumber, hummus with olives and pizza dough bread and a mixed mushroom and mozzarella pizza.  All of the items were right off the Happy Hour menu and priced between $8-10 for full-sized portions.  That is a steal of a deal no matter where you go!
Brick + Mortar has Happy Hour seven nights a week.  If you are into sports this is the bar for you as they have big screen TVs covering the games.  On Friday and Saturday nights from 9:30 p.m. – 1 a.m. a DJ is on hand to play your favorite tunes.
On the weekends from 10 a.m. – 4 p.m. Brick + Mortar serves brunch with bottomless mimosas from 10 a.m. – 3 p.m.  They also have a do-it-yourself Bloody Mary Bar, the first I have ever heard of.  How fun is that!  Accompanying the festivities is a DJ spinning from 11 a.m. – 4 p.m.
Brick + Mortar is a great place for either business meetings or a date.  The atmosphere is sophisticated and laid back.  If you enjoy Yappy Hour with your pooch, there is a large outdoor patio for you both to enjoy your favorite libation.  With a welcoming staff, great service and fantastic food and drinks, I know you will enjoy your visit as much as we did!
Happy Hour Details
Name of Restaurant
Brick + Mortar
Address
2435 Main St. Santa Monica, CA, 90404
Happy Hour Hours
Daily 4 pm – 7 pm
Phone Number
310-450-3434
Email
info@brg-la.com
Price range for drinks
$4-$12
Price range for food
$7- $25
Name of chef
Executive Chef- Laurent Saussy, Chef de Cuisine- Jessica Cabo
Name of owner
BRG
Name of manager
Leo Ahern
Craving Cocktails?™ Happy Hour at Brick + Mortar Santa Monica
5
Sara Altshul
2012-04-16 15:31:09
The new hot spot on Main Street in …
Sponsors

Sign up for CRAVING COCKTAILS? NEWSLETTER