Craving cocktails?™ Happy Hour at FIG Santa Monica where everything is half off!
FIG Santa Monica located in the Fairmont Hotel is aptly named after the 125 year old Moreton Bay Fig tree framing the entrance to the hotel.  It's the second largest of its kind in California boasting an impressive 80 feet in height. The tree was planted more than a century ago at what was once the private estate of Senator Percival Jones, later becoming the property now known as Fairmont Miramar Hotel and Bungalows.
FIG is a seasonal bistro with an emphasis on organically grown and locally sourced ingredients.  Chef Ray Garcia's menu is built around what's in peak season.  Chef Garcia's philosophy is, "to use great ingredients prepared and presented with a minimum of fuss to bring out the best of what nature has already created".
FIG has a very relaxed vibe and an open, welcoming atmosphere favored by neighborhood locals and hotel guests.  There is even a communal table that boasts impressive repurposed wood along with an intimate bar for those in the mood to socialize and make new friends, enjoy signature cocktails and revel in happy hour menu items.  The real secret at FIG is that everything on the menu is 50% between 5 p.m. to 6.p.m.  Yes, you heard me correctly!  Snack items start at $2 and go up from there.
On our most delightful visit, Master Mixologist Tavis Chavez started us off with a round of half priced cocktails including a FIG Mojito (Dos Maderas, 5+3 Rum, house fig preserves, organic mint and lime juice), Blackberry Daiquiri (fresh blackberries, lime juice and agave syrup), Acai Bijou (Veev, Hendricks Gin, Green Chartreuse, sweet vermouth and bitters), Vieux Carre (Bulleit Rye, Hennessey, sweet vermouth, Benedictine, bitters), Gin Smash (Lemon wedges, mint, simple syrup and gin), and Dark & Stormy (Rum, lime juice, housemade ginger syrup and soda).  These cocktails were all masterful creations and tremendous value at these prices!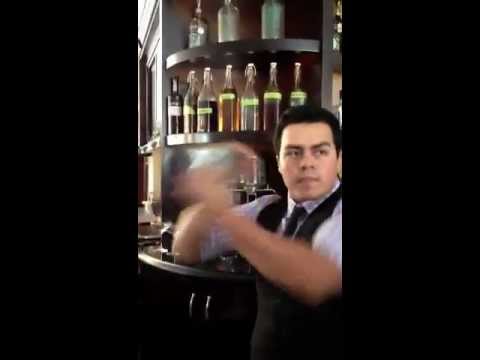 Next PR whiz kid Jacqueline Bayliss, my lovely host for the evening, ordered us some small plates to sample.  These included Young Beets with Santa Barbara Pistachios; Chicken and Prosciutto Croquettes; Baby Artichoke Salad with fennel, Pecorino Romano, pine nuts and blood orange; Kampachi Crudo with Hearts of palm, citrus and yuzu kosho; and a magnificent cheese and charcuterie board curated by Eric Brazel which included Blythedale Camembert, Paksi Sir, Chabichou du Poitou, La Peral, salume, and duck rillette.  Every dish was perfecstasy and we enjoyed every bite!
FIG is a perfect place to mingle if you are single.  The elegant space is very romantic if you are looking to go out on a hot date.  The scene at FIG is warm and friendly.  FIG also features a private dining room offering a quiet space for business meetings, holidays or family gatherings.  The cat is out of the bag and you now know the best kept secret in Santa Monica!  I hope your 50% off Happy Hour at FIG is as stupendous as was ours.
Happy Hour Details
Name of Restaurant
FIG Restaurant Santa Monica
Address
101 Wilshire Blvd, Santa Monica, CA 90401
Happy Hour Hours
FIG at Five Tuesday – Thursday 5pm – 6pm
Phone Number
310- 319-3111
Email
info@figsantamonica.com
Website Link
http://figsantamonica.com/
Price range for drinks
Half off all drinks ($5 – $7)
Price range for food
$5 – $12 per dish
Featured Wines
Chardonnay- FIG, Santa Maria Valley '09 ($8 per glass during happy hour) Bistro Blend- Le Coq Rouge, Vin de Pays, '10 ($4.50 per glass during happy hour)
Featured Mixed Drinks
Blueberry Fiz ($7 during happy hour); The Fig Mojito ($7 during happy hour); Pink Shiza ($9 during happy hour)
Name of chef
Ray Garcia
Name of manager
Matthew Lehman
Craving cocktails?™ Happy Hour at FIG Santa Monica where everything is half off!
5
Sara Altshul
2012-04-26 21:28:47
FIG Santa Monica located in the Fai…
Sponsors

Sign up for CRAVING COCKTAILS? NEWSLETTER