Craving Cocktails?™ The 21st Annual Santa Monica Festival was fantastic!
The 21st Annual Santa Monica Festival at Clover Park, Santa Monica delivered big time!  The Santa Monica Festival is a unique event that highlights the dynamic connection between the City's communities, businesses, arts and environment while offering ideas and solutions for a greener, healthier and more sustainable lifestyle.  The Santa Monica Festival had an eclectic mix of live music and dance, delicious food, DIY art workshops with recycled and repurposed materials, guilt-free shopping featuring earth-friendly artistic wares, as well as information about local resources offered by a variety of City, environmental and local non-profit organizations.
This year's Santa Monica Festival included a Food Salon with local food trucks, cooking demonstrations for adults and kids and a farmers market "Chef Challenge" where Nyesha Arrington of TV's Top Chef and Wilshire Restaurant and John-Carlos Kuramoto of Michael's Restaurant had 15 minutes to create a dish using ingredients found at the Santa Monica Farmer's Market.  The dish had to be easy, fast and affordable.  While both chefs did an outstanding job, in the end the Judges declared in favor of Nyesha.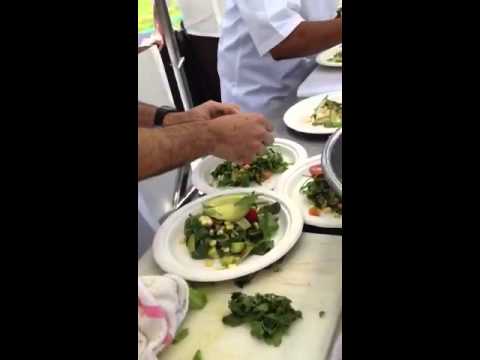 The Food Salon also featured cooking demos from local chefs like Alex Moreno, Executive Chef of Border Grill Santa Monica and "The Art of Food" blogger and Chef Marina Ivlev.  The Jamie Oliver Food Revolution Los Angeles Ambassadors were on site hosting the Kids' Kitchen that offered kids simple cooking tips.
This year's event was sponsored by Whole Foods Market, Santa Monica Farmer's Market, Santa Monica Place and West LA Takeaway.  Food trucks were plentiful as were bands, fitness classes, interactive demos, and a bike valet.  The weather was perfect and it was a delightful family day in the park.  If you were unable to make it this year, mark your calendars now – you have next year's festival to look forward too!
P.S. – You can see the whole Chefs Challenge by visiting my Craving Cocktails? You Tube Channel.
Sponsors

Sign up for CRAVING COCKTAILS? NEWSLETTER