Craving Cocktails?™ the WSWA Convention in Las Vegas was stellar!
This April, Craving Cocktails?™ was privileged to have been invited to attend the Wine & Spirits Wholesalers of America, Inc. (WSWA) 69th Annual Convention and Exposition at Caesar's Palace in Las Vegas.  WSWA is a national trade organization representing the wholesale tier of the wine and spirits industry.  Founded in 1943, WSWA has over 340 member companies in 50 states and the District of Columbia. Their members distribute more than 70% of all wines and spirits sold at wholesale in the United States. 
 "The wine and spirits industry is stronger than ever, and we are delighted to be back at Caesars Palace," said Craig Wolf, WSWA President and CEO.  This years attendees numbered in the thousands.  General session speakers included Nando Parrado, author of "Miracle in the Andes," Erik Qualman, author of "Socialnomics: How Social Media Transforms the Way We Live and Do Business" and "Digital Leader: 5 Simple Keys to Success and Influence," Kit Codik, CEO and co-founder of Liquor.com and John Hofmeister, founder and Chief Executive of Citizens for Affordable Energy and former president of Shell Oil Company.
The highlighted events included the Opening Night Reception and Taste of the Industry showcasing new products and brand extensions, Hot Brands Awards presented by Impact Magazine, The Lifetime Leadership Award presented to Vern Underwood, Chairman of the Board and CEO of Young's Market Company, LLC, and The Sidney Frank Award presented to Mark Brown, CEO of Sazerac Company, Inc.
Three live competitions were held featuring innovative products, original cocktail recipes and top mixologists.  These were the Wine & Spirits Tasting Competition sponsored by The Tasting Panel Magazine, Call for Cocktails: Mixology Competition and the Wholesaler Iron Mixologist Competition.  Tony Abou-Ganim, author of "The Modern Mixologist: Contemporary Classic Cocktails," emceed the cocktail competitions.
Serving up the hottest brands and the coolest cocktails, this convention was the most well crafted event we have ever attended.  From our perspective, everything went flawlessly.  As we only had two full days to cover a massive amount of ground and can imbibe only so much (even for seasoned pros such as ourselves) I will highlight for you some of our favorite brands, people, companies and tastes.  I wish we could mention and share with you all of our marvelous experiences but space will not allow…  
One of our first stops was with Mark Waldron of Baby G Premium Shooters of Ireland.  This is a terrific new product.  It is a shot glass filled one-half with Irish cream liqueur and one-half with coffee liqueur.  Just chill and drink.  How easy is that? 
We are way into cool packaging and esthetics.  We found Tattoo Tony's Hard Iced Tea and Bonfun Cognac Wine from France both to have what it takes to catch our attention.  Bonfun will be debuting this May.  We can't wait to try both of these.    
One of the most delightful booths we went to was that of Dora Martins from Quinta da Alorna Wines of Portugal and Limeng Stroh of Full Circle Wine Solutions.  Not only did we learn a lot about Portuguese wines, but these ladies gave us a blind taste test to challenge our wine know how.  We were only off by one region in the taste test.  We can't wait to have more Portuguese wines this summer which will pair well with BBQ.  We loved these wines!
We could not take our eyes off of the bottles from Matsu!  These gorgeous fellas on the labels are the winemakers themselves.  Matsu is more than a winery or a wine; it is a modern project of sustainable viticulture that brings forth an exclusive collection of high expression wines. Matsu is a Japanese word that means to wait. All of these wines are natural as the vineyards are cultivated in a completely ecological fashion avoiding the use of chemical or synthetic herbicides, insecticides, and fungicides.  We are so down with that!  
We had a great time visiting with the guys from International Spirits and Wines who were showcasing their new releases including an array of beautiful Moscato wines for summer.  We had a lengthy chat with John Menna who shared his new Chateau Chocolat wine with us.  If you have not tried this yet, it is heavenly.  Chocolate and wine?  A perfect pairing in a bottle of two of our favorite things.  Inspired!
We all need great mixes to create great cocktails. You can feel the love from the group representing Jimmy Luv's Bloody Mary Mix. We found it quite wonderful even without the alcohol.  One of my tweeps, Lulu B. Wines, has a new line of guiltless indulgences.  Fabulous cocktail mixes that are soft on calories and carbs just in time for summer!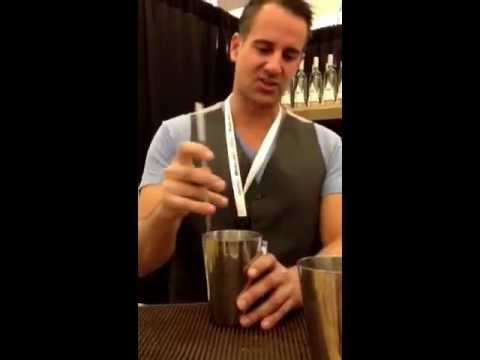 We love vodka!  One of the best that we sampled was by Sath Nop of Sakiri Vodka.  This was both an exquisite presentation and a luscious libation!  This vodka rocked!
Two other new liquors that we were drawn too because of their sexy bottling were Michael Mills' Given Liqueurs and Desiree flavored vodkas.  Both of these were elegant and delectable.
We had a terrific visit with David Salmon of KWV South Africa.  They were showcasing their new Wild Africa cream liqueur replete with the most captivating packaging; a bottle wrapped in faux cheetah fur!  This was a gem.  Their wines were all fantastic and took home quite a number of awards this year at the WSWA Convention.  Kudos to KWV for their delicious products! 
We were delighted to have met Scorpion Mezcal whose philosophy is "Worms are for Wimps!"  We did not know much about either tequila or mezcal before the WSWA Convention but thanks to their help we sure do now!  What a great education.   
There were three more products that I will mention that were absolute eye candy and lured us right in.  Pure artistry inside the bottles reflected with equal artistry outside the bottles; you can't beat that! Cavoda Vodka comes with its own light built into the bottom of the bottle.  How amazing is that? So unique!  Tequila Loma Azul is beautifully wrapped in velvet and perfect for gifting.  The super spectacular Tequila Los Azulejos' Masterpiece Collection features bottles that have six Picasso inspired paintings. Priceless!
Being completely partial to wines from Australia we loved Jackaroo Wines of South Australia, especially the Sauvignon Blanc!   We are very partial to earth friendly packaging, in this case a One Planet Tetra Winepak, environmentally friendly, light weight and shatterproof.  Go Gaia!
Our last visit was with Giulia Luccioli of QVItaly, representing wines from Piedmont, Veneto, Marche, Umbria and Puglia.   These were superb, world class small batch wines.  Giulia shared with us that these wines are made without pesticides and are mostly from loving, traditional family businesses.  I can tell you that the result is spectacular.  Bliss in a bottle!
WSWA really knows how to put on a party!  Their Taste of the Industry Party was a blast replete with food stations serving mouth watering roast beef and pastas as well as self-serve stations with wonderful cheeses and fruits.  We had a superlative time mixing and mingling with the vendors and the WSWA staff.   
On our last day in Las Vegas we attended the Call for Cocktails competition.  I would have been hard pressed to have been a judge at this one as all the drinks looked fantastic to me. The mixologists took such care and precision to prepare them with the highest quality ingredients.  In the end there can only be one First Place winner and that title went to Freddy Diaz of Kindred Spirits for his Berry Essence cocktail made with Martin Miller's Gin.
Craving Cocktails?™ thanks the WSWA for allowing us to attend this super fun, highly educational convention.  There are so many inventive new products coming out that we can't wait to try! Hopefully we will be caught up in time for next years WSWA Convention in Orlando.  We look forward to making more new friends then and reconnecting with old ones.  Hope to see you there!
Craving Cocktails?™ the WSWA Convention in Las Vegas was stellar!
5
Sara Altshul
2012-04-03 18:21:08
This April, Craving Cocktails?™ was…
Sponsors

Sign up for CRAVING COCKTAILS? NEWSLETTER